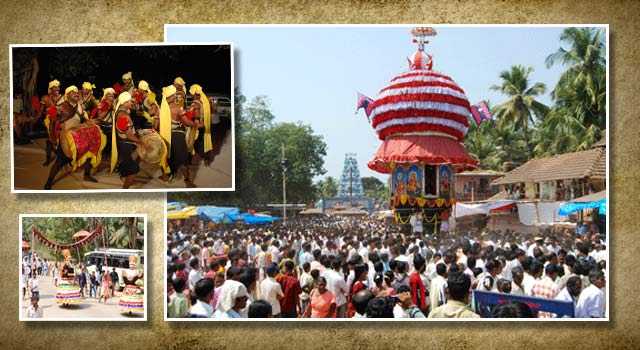 M Nava Rathri Ustava (Dasara) Nine Day Sri Devi Alankara.
Annual Festival of Temple (In the Month of February).
Kumba Masa Kumba Sankramana - Night Kenda Seva, Hallittu Seva, Ranga Pooja,
Dakke Bali.
Second Day Car Festival, Evening Valaga Mantapa Pooja, Shayanostava, Kavata Banda
Third day Morning Ganahoma Kavata Visarjane ,Laxmi Mantapa Pooja Thulubhara Seva.
Evening After 6.00pm Palaki Ustava, Suragikatte Pooja , Kere Deepostava, Valaga Mantapa Pooja.
Ganeshothsava:
Ganeshothsava Samithi (committee) will celebrate this utsava for 2 days in the temple premises. On the first day morning Lord Ganesha's idol will be installed and Poojas like archane, Sahasranama, Mahamangalarathi etc will be held. In the afternoon, Gana Homa will be performed. Different types of competitions will be conducted for school children from morning till evening. During nights, cultural programs such as Dramas, Yakshagana, etc will be conducted. On the next day, Poojas as was done in the first day will be performed. Competitions such as breaking of curd pot; pulling of rope, climbing of Mallagamba (pillar), will be conducted. Participants to these competitions are public and school children. After 5:30 PM, Procession with musical instruments, fancy dresses and folk dance will move from the temple, on the roads and back to the temple. After 7 PM, the idol of Lord Ganesha will be immersed into the water. Mahamangalarathi and distribution of Prasadam will be last event.
Prathama Seve Aata (November 18):
In the morning, 5 idols of Lord Ganapathi will be installed followed by the following Programs.
(1) Ganahoma and Special Pooja in the Barali Ganapathi Temple.
(2) Ganahoma for 5 idols of Lord Ganesha and Special Poojas to Lord Ganesha and Goddess Sri Durga Parameshwari by the Yakshagana troop and Anna Santharpane.
(3) Gejje Seve at 6:00 PM in the Barali Ganapathi Temple followed by Poojas.
(4) Yakshagana Seve by 9:00 PM on the same day by five groups till 6 AM of the next day, thereby starting the Yakshagana Seva of that year.
Gejje Pooje means, the tiny bells to be tied to the legs of Yakshagana artists will be placed before the God and they will be worshipped with all customary rituals. The Yakshagana artists with wearing their respective role dresses will dance and they will arrive at the Sreekshethra. The five idols of Lord Ganesha represent the five troops of Yakshagana.
Navarathri Utsavas:
Navarathri Utsava will be celebrated during the 9 days of Navarathri. Every day Chandika Shanthi (Homa) and Vishesha Veda Parayana will be performed. On the 9 days of the Navarathri Special Poojas will be performed. In the evening Maha Pooja will be performed and Archakas from 8 Homes will present Special Naivedya to the Goddess Shree Devi. After that cultural programs will be started (Yakshagana, Drama etc). These programs will be performed for 9 days. On the last day, the members of the five melas of the temple will perform Yakshagana Seva.
Special festivals in kumbamasa during kumba sankramana:
First day: Afternoon kumbasankramana, in the night kenda seva, milk seva for subramanya swamy, ranga pooja and dakkebali seva.
Second day: afternoon maha rathotsava, in the evening pooja of valaga mantapa, shayanotsava, kavata banda.
Third day: Morning gana homa, dissolution of kavata, pooja of laxmi mantapa, tulabhara seva.
In the evening from 6 O'Clock Palaki festival, Suragikatte pooja, Karedeepotsava and pooja of valaga mantapa are performed.
Shree Chamundeshwari Temple:
Mari pooja will be conducted in kumba masa.
Shree Kallu Malingeshwara Temple:
Deepotsava during kartikamasa, mahashivaratri rudrabhisheka and yakshagana seva will be performed.